Properties of Jasmine Flower Essence: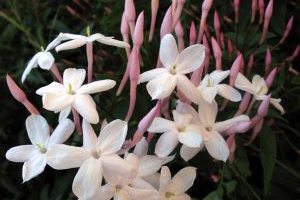 This essence will increase Yin energy and brings a deep aura of femininity to the user. It cleanses the Uterus so is good to use after leaving an intimate relationship that no longer serves. It will also combine well with Pink Frangipani Flower essence to heal and cleanse the 2nd chakra , for those who have suffered sexual trauma in any form.
It boosts sexual self esteem in Women and will increase Sexual desire . Combined with Rose Flower essence to transmute physical Love into Spiritual Love and move the sexual energy from the 2nd chakra to the Heart Centre.