NB- All the smudge sticks are made when ordered so that the quality is high and they are as fresh as possible. So there may be a week between when you order and it being posted. Shorter wait time in Summer, longer wait time in Winter when it is wet and cooler here in the West. Thank you for your patience.
In the interest of preserving trees, to keep our carbon footprint and your costs down we dont use packaging. The info sheets that are sent with the Smudge Sticks are printed on Recycled paper. These can be sent on request All the information you need on each Smudge Stick is here on this page. All of the smudge sticks are made with Organically grown herbs from my Majikal Herb Garden at the Grove of Pan Herbal Farm and are based on 2 Major Ingredients: Lavender and Moxa Weed (information below).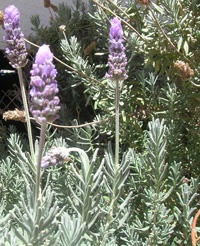 Lavender ( Lavendula angustifolia )
Primarily air element. Has a light, aromatic and refreshing scent. Useful for attracting peace, creating a peaceful atmosphere, attracts loving energy, happiness, restores balance. Also reduces depression, grief and sorrow. Aids in meditation and divination, and often said to aid in manifestation. Known as Elf Leaf, Nard, Nardus, Spike and Lavender. Traditionally associated with fairies and elves.
---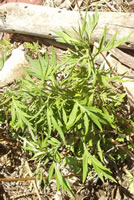 Moxa Weed ( Artemisia capillaris )
Used in Chinese Herbal medicine as an alternative to needles . It has a cooling effect on the Liver and Gallbladder, dispelling heat . It gets rid of parasites and worms. Energetically when burned it clears away the energy of heated arguments and dispels negative energy or negative spirits and energetic parasites. This herb when dried and burnt keeps smouldering so keeps the Smudge Stick burning.
There are 5 different variations with the 2 Major ingredients as the base. The smudge sticks can also be made to include all of the herbs, or variations of combinations.
The Smudge Sticks: