Chamomile / Matricaria recutita / Anthemis nobilis
---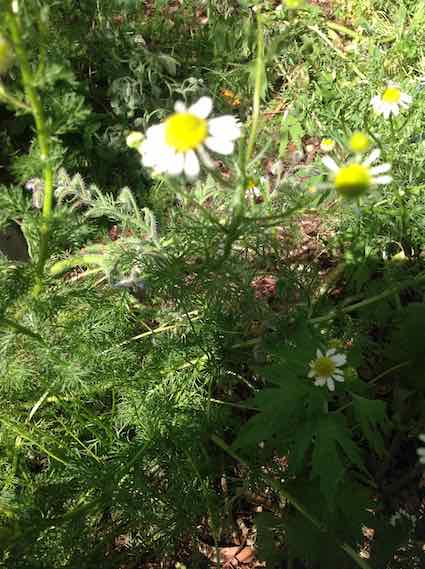 Family:
Compositae / Asteraceae
Genus:
Matricaria / Anthemis
Species:
recutita / nobilis
Folk / Common Names:
Actions:
Anti- allergenic, Anti-inflammatory, Antimicrobial, Antispasmodic, Analgeisic, antispetic, Carminative,diaphoretic, emmenagogue, mild bitter, nervine, relaxant, sedative,tonic, vulnerary
Part(s) Used:
Constituents:
Volatile oil ( azulene, pro azulene, farnesene, alpha- bisabolol, spiroether, sesquiterpenes) flavonoids( anthemidin, luetolin, rutin, apigenin, quercetin) Coumarins ( herniarin, umbelliferone), tannins, mucilage up to 10 % consisting of polysaccharides, phenols, cynogenic glycosides, salicilates, phytosterols.
Uses:
Chamomile is a mild sedative, however large doses have the opposite effect. Used to expell gas from the intestinal tract and to reduce inflammation on the Stomach and GIT. Used to ease colic in baies via breast milk and stomach cramps in children. It is also useful for teething and infantile convulsions. The Spiroether is very strong antispasmodic and releases nervous tension, menstrual cramps, and assist with aching muscles. It is also useful for tension headaches. It can be used as a wash for irritations in the eyes and for conjunctivitis. Also can be used as a mouth wash combined with myrrh and thyme for moiutch ulcers. Use it as a gargle for sore throats in the same way with the same herbs.
Majikal Uses:
Notes:
---
Link to this page from your site:
https://www.theherbalist.com.au/herb_gallery/chamomile
---