Californian Poppy / Eschscholzia californica
---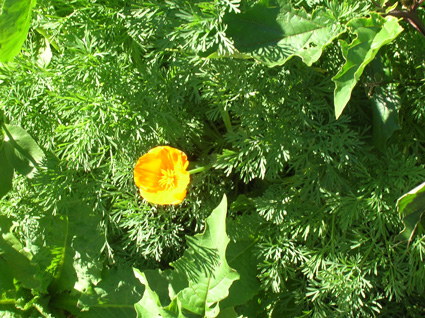 Family:
Papaveraceae
Genus:
Eschscholzia
Species:
californica
Folk / Common Names:
Actions:
Analgesic, anodyne, Anti-anxiety, Antidepressant antispasmodic, Diaphoretic, Diuretic, Galactofuge, hypnotic, sedative, soporific
Part(s) Used:
Arial parts
Constituents:
Alkaloids, flavone glycosides protopine,chlelerythrine,sanguinarine, homochelidonine
Uses:
Used for Anxiety, insomnia, headaches, pain relief, migraines, nervous tension, toothache. It is similar in its effect to poppy (Papaver somniferum) but is much milder and does not depress the central nervous system. It has a markedly different effect upon the central nervous system, that it is not a narcotic but tends to normalize psychological function. Its gently antispasmodic, sedative and analgesic actions make it a valuable herbal medicine for treating physical and psychological problems in children. The root can be used as a wash to suppress milk production in lactating women.
Majikal Uses:
Notes:
---
Link to this page from your site:
https://www.theherbalist.com.au/herb_gallery/californian-poppy
---