Cardamon / Elettaria cardamomum
---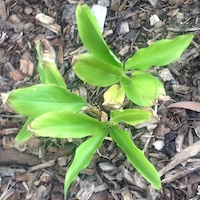 Family:
Zingiberaceae
Genus:
Elettaria
Species:
cardamomum
Folk / Common Names:
Ela, Sha Ren,
Actions:
Aromatic, Carminative, Diaphoretic, Expectorant, Orexigenic, Sialagogue,Stimulant, Stomachic
Part(s) Used:
Seed pods
Constituents:
Up to 5 % volatile oil [ including terpineole, cineole, limonene, pinene, sabinene]
Uses:
Used as a digestive aid and assist with indigestion, loss of taste and mal-absorbtion. Also used for assisting with coughs, bronchitis, colds, hoarseness. Very good for nervous digestion and helps stops emesis , belching and acid regurgitation. It helps stimulate the spleen and helps remove excess mucus from the stomach and lungs. The seeds stimulate the mind, heart and bring give clarity and joy. They neutralise the mucus forming properties of milk and detoxify caffeine .
Majikal Uses:
The seeds are used in love / lust potions and used in Love sachets and love incense .
Notes:
---
Link to this page from your site:
https://www.theherbalist.com.au/herb_gallery/cardamon
---