Catnip / Nepeta cataria
---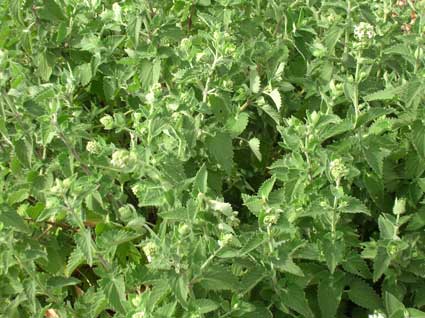 Family:
: Labiatae/ Lamiaceae
Genus:
Nepeta
Species:
cataria
Folk / Common Names:
Cat, Catmint, Catnep, Cat-rup, Cat's wort, Field Balm, Nepeta, Nip
Actions:
Anti-diarrhoeal, astringent, antispasmodic, carminative, diaphoretic, febrifuge, refrigerant, sedative, spasmolytic
Part(s) Used:
Arial parts
Constituents:
volatile oils containing- monoterpenes alpha and beta-nepetalactone, epi -nepetalactone, 5,9 -dehydronepetalactone, caracrol, citronellal, nerol, citral, geraniol, pulegone, thymol, caryophyllene and nepatalic acid, bitter principle, tannins, Iridoids including epideoxyloganic acid and 7-deoxyloganic acid, Rosmarinic acid.
Uses:
Used traditionally for colds and flu's. An excellent remedy for irratable children to calm them down. Also useful for children who suffer from asthma attacks. It calms them down and thereby assisting with breathing. It eases stomach upsets, dyspesia, flatulence and colic. It is very usefulto be ingested by breastfeeding mothers who have babies that suffer from colic and who dont sleep well. It passes through the mothers milk to the baby. The essential oil is abd effective insect repellant, especially for mosquitos. Nepetalactone also repels cockaroaches. So line your pantry and sock draws with Catnip.
Majikal Uses:
Used in Love sachets in conjunction with Rose petals. Grown near the home or hung over you door , catnip attracts good spirits and good luck. Also used in spells to enhance beauty and happiness
Notes:
---
Link to this page from your site:
https://www.theherbalist.com.au/herb_gallery/catnip
---