Globe Artichoke / Cynara scolymus
---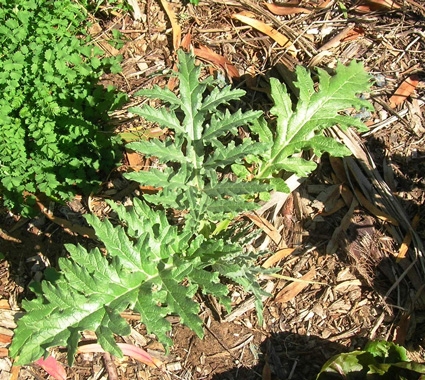 Family:
Compositae/Asteraceae
Genus:
Cynara
Species:
scolymus
Folk / Common Names:
articiocco, arcicioffo ,Old Spanish -alcarchofa , Arabic- al-hursufa, Old English -archecokk, hortichock, artychough, hartichoake. French - artichaut , German - Artischocke
Actions:
Hepatoprotective, Trophorestorative, Cholagogue, Choleretic, Diuretic, Alterative, Hypoglycaemic, Anti-cholesterol, Hypothyroidism, Anti-obesity.
Part(s) Used:
Leaf, fruit
Constituents:
Sesquiterpene lactones, Phenolic acids including cynarin, Flavonoids.
Uses:
The fruit is steamed, pickled, or fried as food. The leaves are used as medicine.
Majikal Uses:
Notes:
---
Link to this page from your site:
https://www.theherbalist.com.au/herb_gallery/globe-artichoke
---