Gotu cola/ Indian Pennywort / Hydrocotyle asiatica or Centella asiatica.
---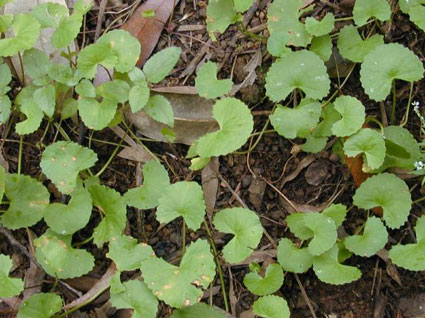 Family:
Umbelliferae
Genus:
Centella / Hydrocotyle
Species:
asiatica.
Folk / Common Names:
Arthritis plant, swamp penny wort,
Actions:
Adaptogen, , anti-inflammatory, alterative, antipyretic, antispasmodic ,cardiac, depurative, diuretic, febrifuge, hypotensive, nervine,purgative, sedative, tonic.
Part(s) Used:
fresh or dried leaves
Constituents:
Aheteroside (saponoside), asiaticoside which is antibiotic and assists in formation of scar tissue, triterpene acids, indocentoic alkaloid, hydrocotylin, resin, pectic acid, vitamin C, bitter compound, vellarin, tannin (9%), sugars, volatile oil, Phytosterols; stigmasterol and beta-sitosterol. Saponins, oxyasiaticoside, brahminoside, brahmoside, centelloside, madecassoside, isothankuniside, thankuniside, free Asiatic, Brahmic, centellinicisobrahmic, madecassic and betulinic acids.
Uses:
In Ayurvedic medicine, it has been traditionally used to treat leprosy. It is a tonic and is useful for the treatment of arthritis. An old Sinhalese proverb stated "Two leaves a day keeps old age away." It is used in India and Africa for blood purifying, treating venereal conditions and tuberculosis. A cream made from Gotu Kola relieves the scaly welts of psoriasis as will a compress. It also can help promote circulation in the legs so is, therefore, food for venous insufficiency. It can aslo be used both internally and externally for varicose veins alaong with horsechestnut and yarrow
Majikal Uses:
Used as an incense burnt prior to meditation
Notes:
Contra : Large doses can be narcotic.
---
Link to this page from your site:
https://www.theherbalist.com.au/herb_gallery/gotu-cola-indian-pennywort
---