Jarrah / Eucalyptus marginata
---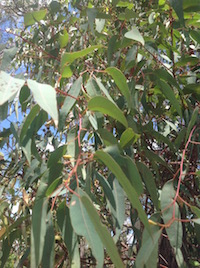 Family:
Mytaceae
Genus:
Eucalyptus
Species:
marginata
Folk / Common Names:
Jarrah, Guilford Jarrah, Swan River Mahogany
Actions:
Anti- Inflammatory, anti cancer, Antibacterial, antiviral, Antibiotic, anti stress, antitussive, bronchodilator, aids memory, neuromodulator, sedative
Part(s) Used:
Leaves
Constituents:
Volatile oils containing - alpha pinene, p -cymene, sesquiterpenes, aldehydes, limonene, 1.8 cineole, methyl acetate
Uses:
Jarrah can be used for cough's , asthma, cancer, bacterial infections, inflammation in the body. Topically the leaves can be made into a paste and applied to cold sores. It also can be taken as a tea or tincture to help with HSV 1 OR HSV 2 .
Majikal Uses:
none known .
Notes:
---
Link to this page from your site:
https://www.theherbalist.com.au/herb_gallery/jarrah
---