Jasmine / Jasminum officinale
---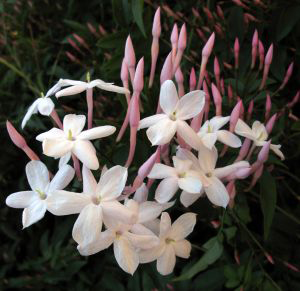 Family:
Oleaceae
Genus:
Jasminum
Species:
officinale
Folk / Common Names:
Jessamin , Moonlight on the Grove
Actions:
Alterative, antibacterial, Aphrodisiac, Emmenagogue, Hemostatic, Nervine, Refrigerant
Part(s) Used:
Flowers
Constituents:
Uses:
Used for emotional disturbances, headache, fever, depression, frigidity, conjunctivitis, sunstroke, dermatitis, burning urethra, bleeding disorders, bacterial or viral infections, cancer of the lymph nodes, bone cancer, Hodgkins disease,
Majikal Uses:
Used in love mixtures, they attract spiritual love. Also carried, burned or worn to attract money and wealth . Burned in the bedroom to induce prophetic dreams.
Notes:
---
Link to this page from your site:
https://www.theherbalist.com.au/herb_gallery/jasmine
---