St. Marys Thistle # / Silybum marianum
---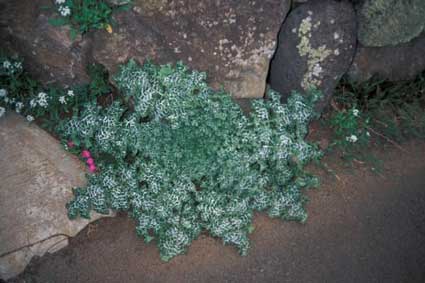 Family:
Compositae / Asteraceae
Genus:
Silybum
Species:
marianum
Folk / Common Names:
Milk Thistle, true thistle, MarianThistle,
Actions:
Demulcent, bitter tonic, cholagogue, choleretic, diuretic, galactagogue, hepaprotective, Liver regenerator
Part(s) Used:
The seeds and the leaf
Constituents:
Essential oil, tyramine, histamine, bitter principles, a flavonoid silymarine, flavones : silymarin composed of mainly ; silybin, isosylibin, dihydrosilybin, silydianin and silychristin, mucilage. Triterpenes ; Beta-sitosterol. Other flavonoids based on apigenin, kaempferol, and luteolin. Also fatty oil, amidon, albumen.
Uses:
It helps repair liver tissue damage so is very useful for anyone who has had hepatitis or who has been an alcoholic or substance dependent. It stimulates the flow of bile from the liver and gall bladder so will aid in any digestive problems.It can clear the liver of toxins and will regenerate the liver if taken on a regular basis . As a galactagogue, it stimulates milk secretion so is excellent for breastfeeding and works well for this purpose when combined with Fennel, Goats Rue, Aniseed and Dill. Both of these herbs will also aid the child's digestion via the mother's milk. The seeds when powdered and taken act as a preventative against travel sickness. Use this herb with anyone who has had X rays, chemotherapy, a low immune system, toxic blood, constipation or lots of anger. The leaf is a digestive bitter .
Majikal Uses:
Notes:
---
Link to this page from your site:
https://www.theherbalist.com.au/herb_gallery/st-marys-thistle
---