Thyme / Thymus vulgaris
---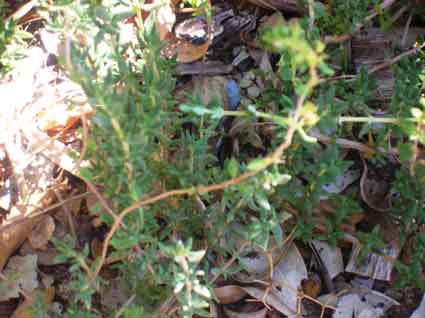 Family:
Labiatae /Lamiaceae
Genus:
Thymus
Species:
vulgaris
Folk / Common Names:
Common thyme, Garden Thyme
Actions:
Antimicrobial, appetising, anodyne, antispasmodic, astringent, antiseptic, anti-tussive,anti-catarrhal, carminative, diaphoretic, diuretic, depurative, expectorant, nervine, pectoral, stimulant, tonic, vulnerary
Part(s) Used:
Arial parts
Constituents:
More than 1 % volatile oil comprising of thymol,carvacrol, cymol, linalol, borneol, geraniol,bornyl and linalyl acetate , thymol methyl ether and alpha pinene. also containsbitter principles, flavonids, tannins, triterpinoids. caffeic acid, labiatic acid, tannins.
Uses:
Majikal Uses:
Notes:
---
Link to this page from your site:
https://www.theherbalist.com.au/herb_gallery/thyme
---